Porta Spa
THE ALTERNATIVE TO TWIN OR SINGLE SPINDLE HORIZONTAL MACHINING CENTERS
 3-SPINDLE ISO 50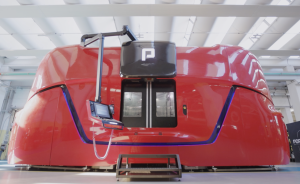 PORTACENTER 500
3 spindles – CUBE 500mm – ISO50/HSK100
Numerical control Machining Center with optional turning work module, with 24 or 40 position changeover, specifically for turning operations.
This machine replaces multiple Machining Centers and lathes, increasing your output and competitive edge.
4 stations and 3 modules
Load station can be automated with robot load
closed frame for maximum rigidity
3 sturdy horizontal XYZ modules, made in die cast iron with ISO50 or HSK100 tool coupling
tool magazine with 12 or 20 positions per module for a total of 36/60 tools
4 satellite tables in continuous mode (360,000 positions)
2 or 4 hydraulic ports for each satellite table
4 fixtures per machine vs. 12 fixtures on 3 single spindle horizontal machining centers
ISO standard programming
Less floor space than multiple horizontal machining centers
Less operators required
Siemens® or Fanuc® CNC
3-SPINDLE ISO 40

PORTACENTER 250
3 spindles – CUBE 250mm – ISO40/HSK63
Fast numerical control Machining Center, ideal to confidently tackle the complex removal of large amounts of material, including "challenging" ones such as cast iron and steel.
This model often replaces ISO40 Machining Centers due to the rigidity provided by the closed frame. It is the perfect machine to replace Machining Centers in battery and gain an ultra competitive edge!
4 stations and 3 modules
Load station can be automated with robot load
closed frame for maximum rigidity
3 sturdy horizontal XYZ modules, made in die cast iron with ISO40 or HSK63 tool coupling
tool magazine with 12 or 20 positions per module for a total of 36/60 tools
4 satellite tables in continuous mode (360,000 positions)
4 fixture per machine vs. 12 fixtures on 3 single spindle horizontal machining centers
2 or 4 hydraulic ports for each satellite table
ISO standard programming
Siemens® or Fanuc® CNC